Buses offer a convenient and inexpensive way to get around Fort Lauderdale. They're a great way to get where you need to be while leaving the navigating and parking to a professional driver. Bus accidents, however, tend to be exceptionally dangerous, and recovering compensation for the full range of losses you experience will be challenging without the professional legal guidance of an experienced South Florida bus accident attorney.
Driver Negligence
Bus accidents are often caused by driver negligence, which can include negligence on the part of another motorist on the road or on the part of the bus driver themself. Bus drivers, however, are professional drivers who are held to more careful safety standards, and bus driver negligence in all the following forms is often at the heart of bus accidents:
Excess speed – Rushing to stay on schedule is not uncommon.
Distraction – Bus drivers must focus all their attention on maneuvering safely through traffic.
Exhaustion – Busy driving schedules can lead to dangerous exhaustion behind the wheel
Impairment – The law takes a zero-tolerance stance in relation to impaired bus drivers.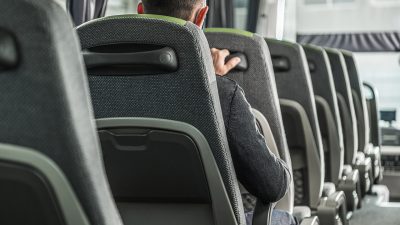 As a Passenger
When you're a passenger on a bus, you're especially vulnerable to serious injuries in the event of an accident. To begin, buses generally don't have the same safety mechanisms cars do, including seatbelts and airbags. In an accident, not only are you at risk of being thrown from your seat but you can also be injured by other passengers being thrown from theirs. Bus drivers who fail to take their responsibility to the safety of their passengers – and everyone else on the road – seriously enough are often responsible for life-threatening accidents, and just one accident can leave many people injured.
Taking Additional Safety Precautions
Navigating a bus safely through traffic requires bus drivers to take additional safety precautions for all the following reasons:
Due to their immense size and weight, buses require longer stopping distances on the road than passenger vehicles do, and bus drivers who fail to take this fact into careful consideration can cause very serious accidents.
Bus drivers experience considerable blind spots all the way around their buses, and failure to carefully check these areas prior to changing lanes can prove exceptionally dangerous.
Because buses are tall and narrow, they are more susceptible to rolling over in adverse weather conditions and when taking tight curves or exits at increased speeds.
Your Bus Accident Claim
If you are injured as a result of a bus accident that was caused by someone else's negligence, you can seek compensation for the losses you experience in all of the following important categories (as applicable):
Damage to your vehicle
Medical expenses
Lost hours on the job
Physical and psychological pain and suffering
Obtaining the compensation to which you are entitled will play a central role in your recovery, and working closely with a seasoned bus accident attorney is well advised.
Call Us Today to Speak with a South Florida Bus Accident Lawyer
The trusted bus accident attorneys at Rogers Law Group have a wealth of experience helping people like you prevail with the compensation to which they are entitled. Our firm works with clients throughout Broward, Palm Beach, and Miami-Dade Counties and the rest of Florida. We work on contingency, which means we don't get paid until your case is successfully settled – or receives a court award. Learn more by contacting or calling us at 954-999-5807 today.