While you probably don't spend much time worrying about slipping and falling, slip-and-fall accidents – also called trip and fall accidents – are some of the most common and the most dangerous accidents out there. The commercial property owners of the businesses we frequent owe us a duty of care that extends to maintaining their properties in a manner that supports our safe passage, and when they fail to do so, dangerous slip-and-fall accidents become far more likely. If you or someone you care about has been so injured, an experienced South Florida slip and fall accident attorney can help.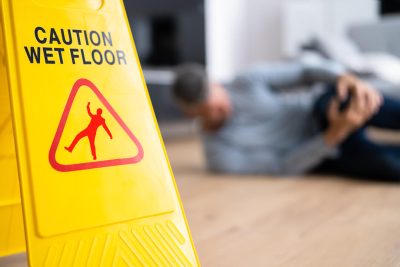 Common Causes of Slips, Trips, and Falls
Nearly anything can cause you to slip, fall, and be injured, but some of the most common causes in the stores, restaurants, and other businesses we frequent include the following:
Wet floors
Debris in walkways and aisles
Failing to clean up spills
Poorly maintained parking lots, parking structures, and outdoor walkways
Uneven door thresholds
Outdoor debris and moisture that's tracked inside and not adequately cleared away
Poorly designed, built, or maintained staircases
Poorly lit indoor walkways, staircases, or outdoor walkways
Aisles and corridors that are overcrowded with displays, furniture, or equipment
Flooring or floor coverings that are overly slippery
Dangerously worn flooring or floor coverings
Associated Injuries
The injuries that are commonly associated with slip and fall accidents include:
It's important to know that a dedicated Fort Lauderdale slip and fall accident attorney can help.
The Statistics
Trip and fall accidents happen far more frequently than you may realize. Consider the following sobering statistics shared by the National Floor Safety Institute (NFSI):
8 million emergency room visits each year are the result of falls, which makes them the leading cause of such visits, and slip and fall accidents, specifically, account for a full 12 percent of these falls.
In more than two million fall accidents each year, floors and flooring materials play a direct role.
A full 20 percent of falls lead to serious injuries like broken bones or TBIs (according to the Centers for Disease Control and Prevention – CDC).
More than 95 percent of all hip fractures are caused by falls (CDC).
The most common cause of TBIs is falls (CDC).
In a recent year, the total medical expense associated with falls in this country exceeded $50 billion (CDC).
An Experienced South Florida Slip and Fall Accident Attorney Can Help
if you have slipped, fallen, and been injured as a result of a commercial property owner's negligence, obtaining fair compensation is key. Fortunately, the knowledgeable slip and fall accident attorneys at Rogers Law Group are here to help. We work with clients in Miami-Dade, Palm Beach, and Broward Counties and throughout the state. Your case is important, so please don't wait to reach out and contact or call us at 954-999-5807 for more information about what we can to do help you today.