Fort Lauderdale Slip and Fall Accident Lawyers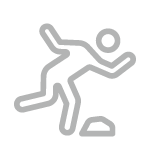 One of the most common reasons for emergency room visits is from slip and fall or trip and fall incidents. The Rogers Law Group is experienced in recovering maximum compensation for those who have been injured from these falls. The Rogers Law Group is comprised of seasoned Fort Lauderdale slip and fall accident lawyers with experience in premises cases. We will fight to obtain justice for you or your loved ones.
Most accidents are the result of injuries sustained due to hazardous conditions on public or private property. Those who own or manage the properties can be held legally responsible for the losses and damages incurred as a result of the slip and fall injuries.
Hazardous conditions can include the following:
Water on the floor
Foreign substances on the floor
Dangerous objects left on the floor
Broken pavement on sidewalks and parking lots
Hazardous gaps in the floor
Tripping hazards on the floor.
And more . . .
As an accident victim, it is your right to take legal action to obtain justice in these cases, and our Fort Lauderdale trip and fall attorneys will protect your rights.
By consulting with The Rogers Law Group, our team will recover full compensation from premises liability cases. Our responsibility as your attorneys is to prove that the property owner or management company had knowledge of the dangerous condition, or should have reasonably known that the dangerous condition was unsafe and neglected to take the proper actions to fix the situation.
Our Fort Lauderdale Premises Liability Lawyers are Ready to Fight to Obtain Justice
Our experienced slip and fall accident attorneys have offices in Downtown Fort Lauderdale and are uniquely equipped to handle your case after a personal injury as a result of a trip and fall or slip and fall. It is important to consider all of your rights before accepting a quick settlement. We will help guide you through the process, inform you of your rights and options, and make sure you are on the path to recovery with peace of mind.
We understand that the recovery process from injuries like concussions, broken bones, herniated disks, brain damage, and spinal cord injuries can be difficult. Our South Florida premises liability accident attorneys have a long and successful track record of helping clients recover the maximum damages after accidents of all kinds. Choosing the right legal counsel is crucial to creating the best possible outcome for your South Florida slip and fall case.
Our talented Fort Lauderdale, Florida trip and fall attorneys serve Broward County, Palm Beach County, Miami-Dade County, and the surrounding areas.
The Rogers Law Group is prepared to help you and your family navigate the legal and financial challenges resulting from these unfortunate accidents. The Rogers Law Group is your resource for trusted Fort Lauderdale personal injury attorneys.
We help you recover the maximum available compensation for your injuries, losses, pain and suffering. The Rogers Law Group has obtained numerous six-figure verdicts for their clients. Get in touch with us for a free consultation. We can help handle your case with care, and we will fight for justice in your case.
Common cases include but are not limited to:
Premises Liability Accidents
Shopping Injuries
Wet Floor Accidents
Sidewalk Accidents
Parking Lot Accidents
Inadequate Lighting
Floor Wax, Mop or Polish Accidents
Torn or Bulging Carpets
Elevator and Escalator Incidents
Dog Bites, Animal Attacks
Amusement Park Accidents
Fires

Defective Staircases
Wet Floors, Oily Floors
Hidden Extension Cords
Unsecured Rugs or Carpets
Thresholds
Loose or Broken Sidewalks, Steps or Stairs
Broken Fences or Gates
Swimming Pool Accidents
Inadequate Building Security
Inadequate Maintenance of Premises
Toxic Fumes or Chemicals
If you have been injured in an accident case, slip or fall case or premises liability case in South Florida, our experienced Fort Lauderdale Slip and Fall Attorneys will protect your interests and fight to obtain justice.